Welcome to the Edit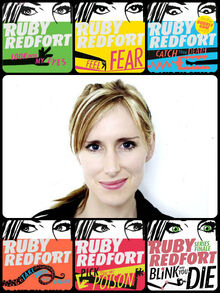 This wiki is about the Ruby Redfort series written by Lauren Child, which were first introduced in her best-selling series Clarice Bean. There are six books in the series, Look into my Eyes, Take your Last Breath, Catch your Death, Feel the Fear, Pick your Poison, and Blink and you Die. The six books feature a sense themed code that Ruby has to solve - the first book is based on sight, the second hearing, the third smell, the fourth touch, the fifth taste and the sixth on what is known as the 'sixth sense'.
Summary:
Ruby Redfort
may look like your normal thirteen-year-old who lives a pretty laid-back life in
Twinford
, but she isn't your average kid. She's "every smart kid's smart kid" (from
Look into my Eyes
), child prodigy and daughter of not-so-bright yet lovable millionaire socialites,
Brant Redfort
and his wife
Sabina Redfort
. But nothing will ever stay ordinary for Ruby Redfort when all the sudden, a top-secret agency,
Spectrum
, requests her to be their ace code-cracker (and in exchange, a butler for her every need). The series follows on this code master and child investigator's adventures as she decodes impossible codes, solves crimes and kicks criminal butt while struggling to balance academic life, friendship and family in her daily schedule; with the help of an ever-loyal bestie and one hell of a secret agent butler.
Latest Activity
Edit